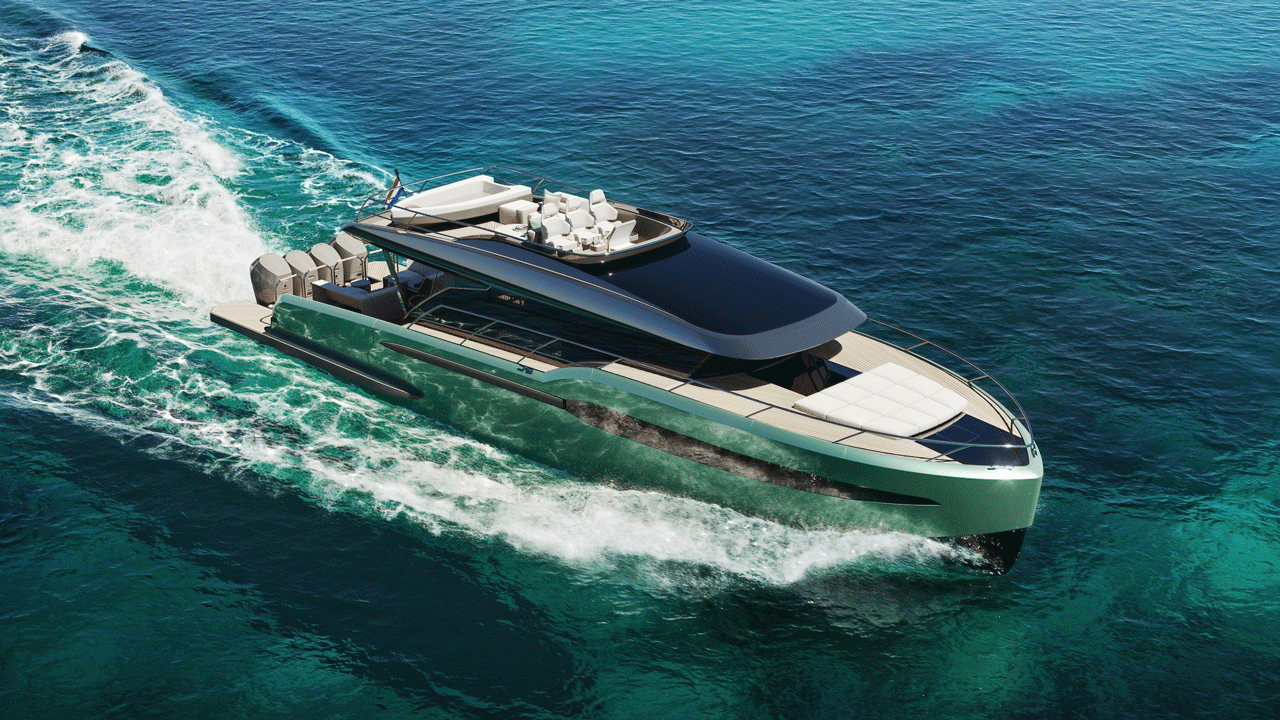 September 12, 2022
Petestep hull on Van der Valk Edge 65
The launch model of the EDGE 65 will serve as a sister vessel to our 90-foot LeVen. This was built for the owner's parents in 2019, while the 34-metre tri-deck explorer Lady Lene was delivered to his grandparents in 2021. All the family's superyachting experience is being deployed on the EDGE 65 to create the ultimate weekender for their favourite cruising area of the Bahamas in partnership with Van der Valk, exterior designer Cor D. Rover, interior designer Carla Guilhem and Studio Delta Naval Architects.
The EDGE 65 will combine a 40-knot top speed with the ability to make ocean crossings in comfort while also exploring shallow waters. With a fold-out platform spanning some 48 square metres of deck space offering the ultimate in outdoor life, this is a very special project.
Access all areas
The yacht's draught of under three feet will open up all but the shallowest waters, while a top speed of 40 knots hastens deep water runs. Power will be provided by four Mercury V12 Verados outboards, offering an exhilarating total of 2400 hp. "It's unusual for a Dutch yard to install these engines on a luxury yacht of this size and the EDGE 65 will be the heaviest possible size that could be propelled by outboards," says Van der Valk general manager Bram Kooltjes. "Mercury Marine's new automatic gear shift technology allows us to come to just over 30 tonnes while retaining the outdoor and indoor real estate required by the owners. We've optimised every aspect of the yacht to benefit speed and reduce underwater friction, and she's going to be an awesome sight in every respect."
In good step
This powerful performance will be accompanied by superb seakeeping comfort after we teamed up with Swedish company Petestep to utilise its revolutionary hull technology for the first time on a Van der Valk. "Combining such speeds on a 65-footer with superyacht standards of comfort was a very exacting brief," says Petestep CEO Jonas Danielsson. "We worked closely with CFD software experts on an extensive series of simulations to see how the boat would behave in all kinds of water. This involved calculating the resistance and pressure components of some five million air and water cells as they interacted with the design. Each simulation took between half and one day to complete and we carried out around fifty for this project."
The resulting data led to the decision to add three Petestep deflectors to the hull, fitted in a V-shape to push water down and aft. The EDGE 65 will have a lower wetted surface, greater degree of lift and forward thrust from the redirection of the spray. The overall result is a major reduction in resistance, a boost to the speed, a dry ride for those onboard and a 30% reduction in slamming. "It's really good to work with a reputable yard like Van der Valk on this project," adds Jonas. "The EDGE 65 can open up a new market for large luxury boats that are relatively fast and allow for both shallow water access and ocean trips."
Close to the water
Exterior designer Cor D. Rover is equally enthusiastic about the EDGE 65. "Together with the owners we've designed a kind of cabana on the water with an optimised amount of enclosed real estate and the option to be as close to the water as possible on a 20-metre boat. The large aft deck morphs into an outdoor pleasure platform with fold-down balconies creating eight square metres extra space. This arrangement will ease launching of the watersports gear, which the outboards would otherwise make impossible in this area. A crane on the flybridge enables the yacht to carry a small tender and/or jet ski.